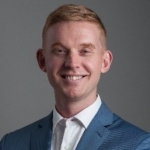 Mathew Franklin, Board Member
Mat is a Senior Executive for the National Disability Insurance Scheme He serves on a range of not-for-profit boards including Volunteering Australia and holds international stakes and directorships in sectors including mining, volunteering and fintech.
Prior to his current role, Mat worked in a variety of roles within the Department of Defence across the Technology, Strategic Policy and Intelligence groups. There, he worked in large operational roles where he was involved in a number of Defence wide reviews, including the Defence White Paper 2016.
Mat is a Harvard Business School Alumnus, holds a Master in Management, Bachelor degree of Computer Science and is also a Graduate of the Australian Institute of Company Directors. He holds fellowships with the Institute of Managers and Leaders and the Royal Society of Arts. In 2016, Mat he was selected as an Emerging Leader of Asia and consulted with the Malaysian Government and HRH The Princess Ann on Economic Development in Malaysia and India.